This course will unleash your Young Upcycler's inner creative spirit by giving them the skills and confidence to take unwanted furniture and transform it into beautiful statement pieces they will love.

Follow each step and your Young Upcycler will build on their creativity and style whilst learning the techniques and skills to bring it all together. They will end up with one marvelous, sustainable piece of upcycled furniture.
You can do this fun course with your Young Upcycler where you will be spending valuable time helping them gain confidence in expressing their ideas themselves through their creative work. And away from their screens. By the end of the course, they will feel a sense of accomplishment and confidence whilst you would have spent time with them in a fun and healthy way.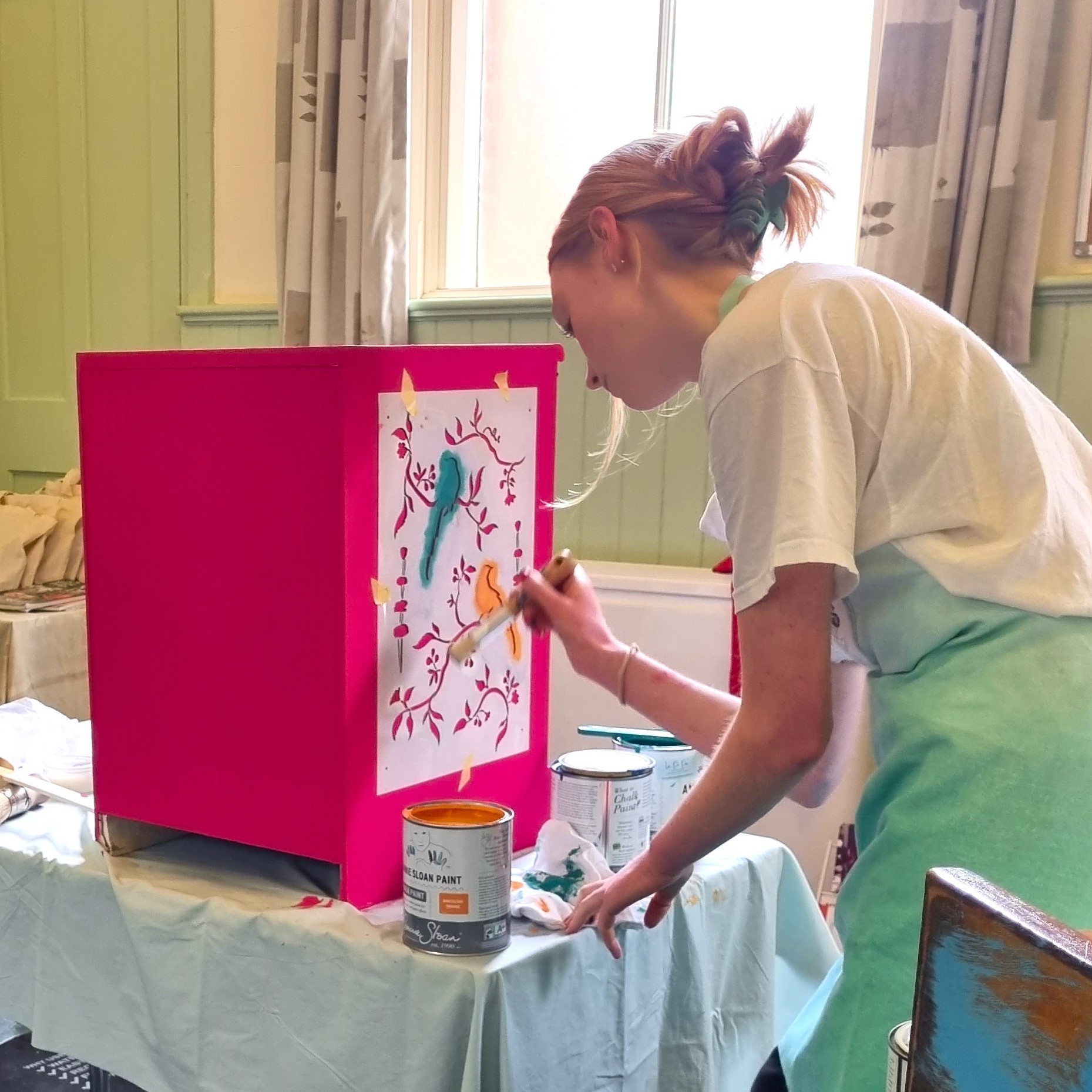 Ava - age 14

"I loved this course and I will definitely keep upcycling in the future...all you have to do is show up and get creative...complete creative control of what you do...This is a perfect course for all ages from me as a teenager (14) to adults and I would definitely recommend it. I was extremely pleased with the final result and enjoyed a fun day painting."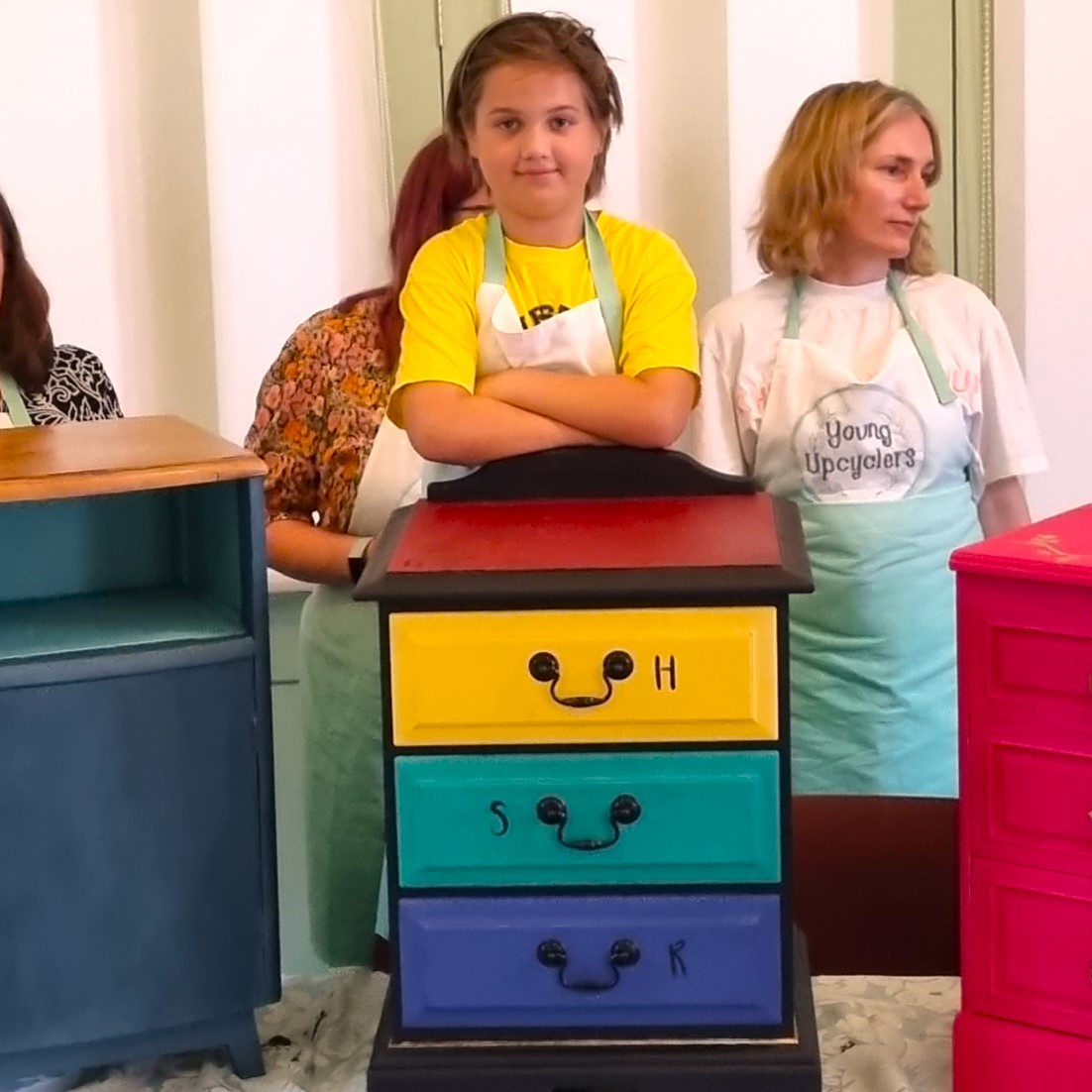 Oscar's Hogwarts Bedside
Oscar is a 10 year old Aylesbury Womble who, along with other Wombles, litter picks the streets to make it a greener, cleaner, better place to live.
Attending an in-person workshop with his Mum, Oscar went home with a Hogwarts inspired bedside of his own design. It's amazing what can be achieved with a little paint and a heap of imagination.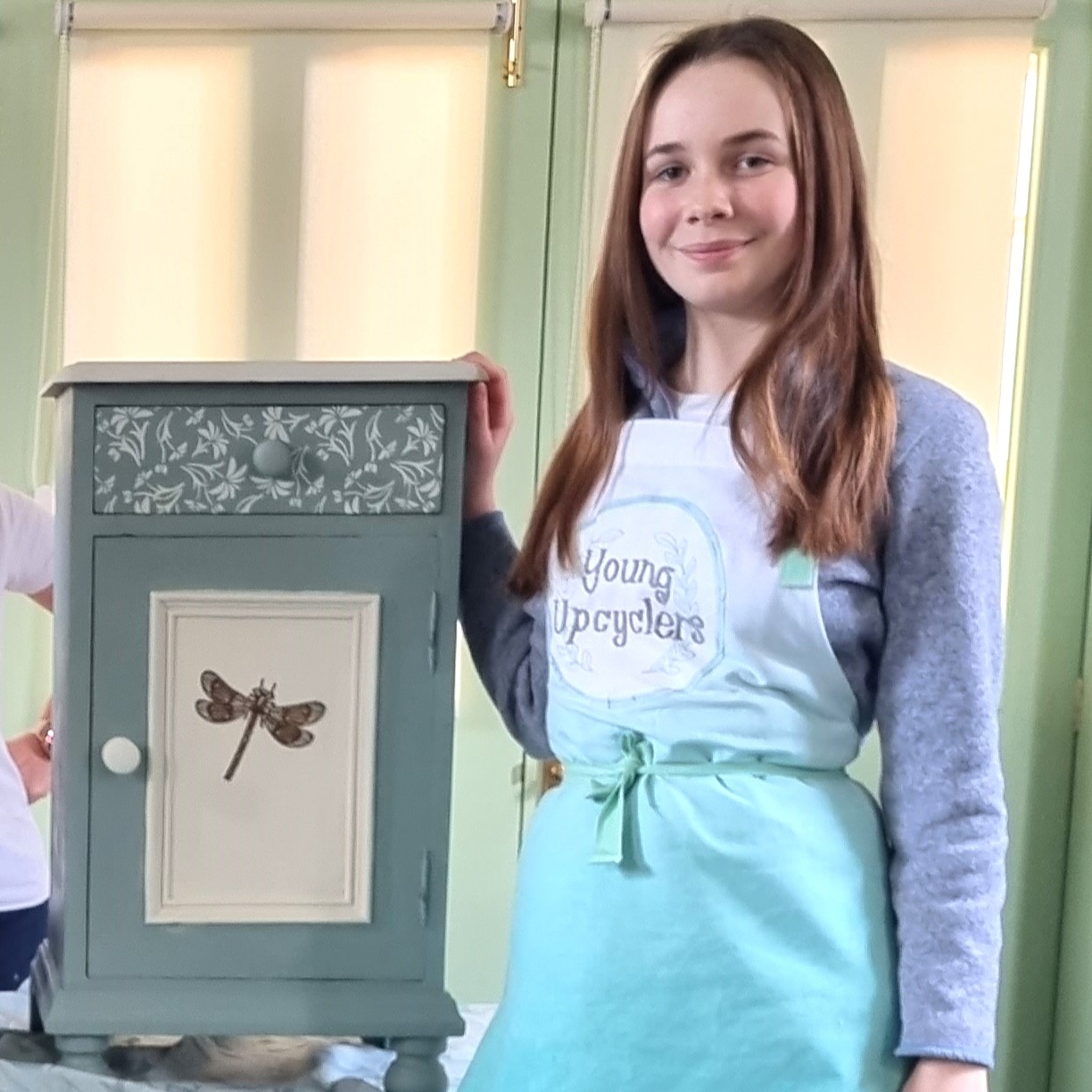 Flinty - age 15

"A special and fantastic day spending quality time with my teenage daughter, learning how to upcycle furniture.
Kirsty was amazing providing a well structured day, learning techniques, every detail thought of plus an addition to our house of a beautiful upcycled piece of furniture fashioned by my daughter.
Can't recommend Kirsty and the course highly enough, both my daughter and I really enjoyed ourselves and our initiation into furniture upcycling - thank you, thank you Kirsty."

When?

Now! This online course officially launched on 15th March 2023 so you can start learning to upcycle your furniture right away. You will have unlimited access to all the tutorials which you can complete whenever you like, in your own time.
What do you need to take part?
You will need a piece of furniture such as a bedside table or small unit. If you don't already have one, the course will guide you through where best to get one from and at a reasonable price.
Boxes of top quality products are now available from the Upcycle Arcade store. There is the Premium and also the Standard box, both containing top quality products, specially selected for your Young Upcycler. The Premium Box contains Annie Sloan paint and wax PLUS Annie Sloan premium quality brushes and is £90, delivered to your door. The Standard Box contains Annie Sloan paint, wax and a stencil brush with good quality paint and wax brushes, delivered to your door for £70. These complete boxes of products contains all the materials needed to complete the Furniture Upcyclers online course.
Alternatively, there will be a full shopping list as well as links to my favourite stockists, in the course.
Who is this furniture upcycling course for?
Our online furniture upcycling workshops are primarily for Young Upcyclers aged 10 to 18 years, although they are equally suitable for Grown-Upcyclers who appreciate just a little more detail.
This course is a great activity to do with the Young Upcycler in your life, be they your son or daughter, or a grandchild, niece, nephew etc.
How much experience do I need to do this course?
Absolutely none! All the skills and techniques will be taught in easy step-by-step videos, supported by some downloadable guides and checklists. Absolute beginners can do this course.
Do I need to be creative to do this course?
Not at all. Of course it helps, but the course offers inspiration at a level your Young Upcycler is comfortable with. This may be a single colour or a range of colours, block colour or stencilled designs. We even discuss knobs and hardware during the course.
How long will the course be available online?
Once you have enrolled, you can work through the course at your own (or your Young Upcycler's) speed. There is no time limit, and the tutorials will remain accessible indefinitely.
How much is this course?
The regular price is £75 for the tutorials although you can pay two lots of £40 spread over two months.
The boxes of top quality products, specially selected for your Young Upcycler to enable them to complete the course is available from the Upcycle Arcade store and is £90 for the Premium Box and £70 for the Standard Box.
How can I pay for the course?
All major credit and debit cards are accepted.
There is also a payment plan available so you can pay in easier to manage installments.



Check your inbox to confirm your subscription