Why book this course?
This course will unleash your Young Upcycler's inner creative spirit by giving them the skills and confidence to take unwanted furniture and transform it into beautiful statement pieces they will love.

Follow each step and your Young Upcycler will build on their creativity and style whilst learning the techniques and skills to bring it all together. They will end up with one marvelous, sustainable piece of upcycled furniture.
You can do this fun course with your Young Upcycler where you will be spending valuable time helping them gain confidence in expressing their ideas themselves through their creative work. And away from their screens. By the end of the course, they will feel a sense of accomplishment and confidence whilst you would have spent time with them in a fun and healthy way.

By the end of this course your Young Upcycler will:
Know where to find a great piece of furniture to upcycle.
Know when and how to prepare the furniture.
Get to know Annie Sloan Chalk Paints™
Master essential painting skills to bring their creative designs to life.
Protect their furniture to ensure its durability and long life.
Learn how to preserve wonderful pieces of furniture. By giving them new life, they will prevent them from ending up in landfill. Reuse, repurpose, recycle; living a little more sustainably and helping our planet.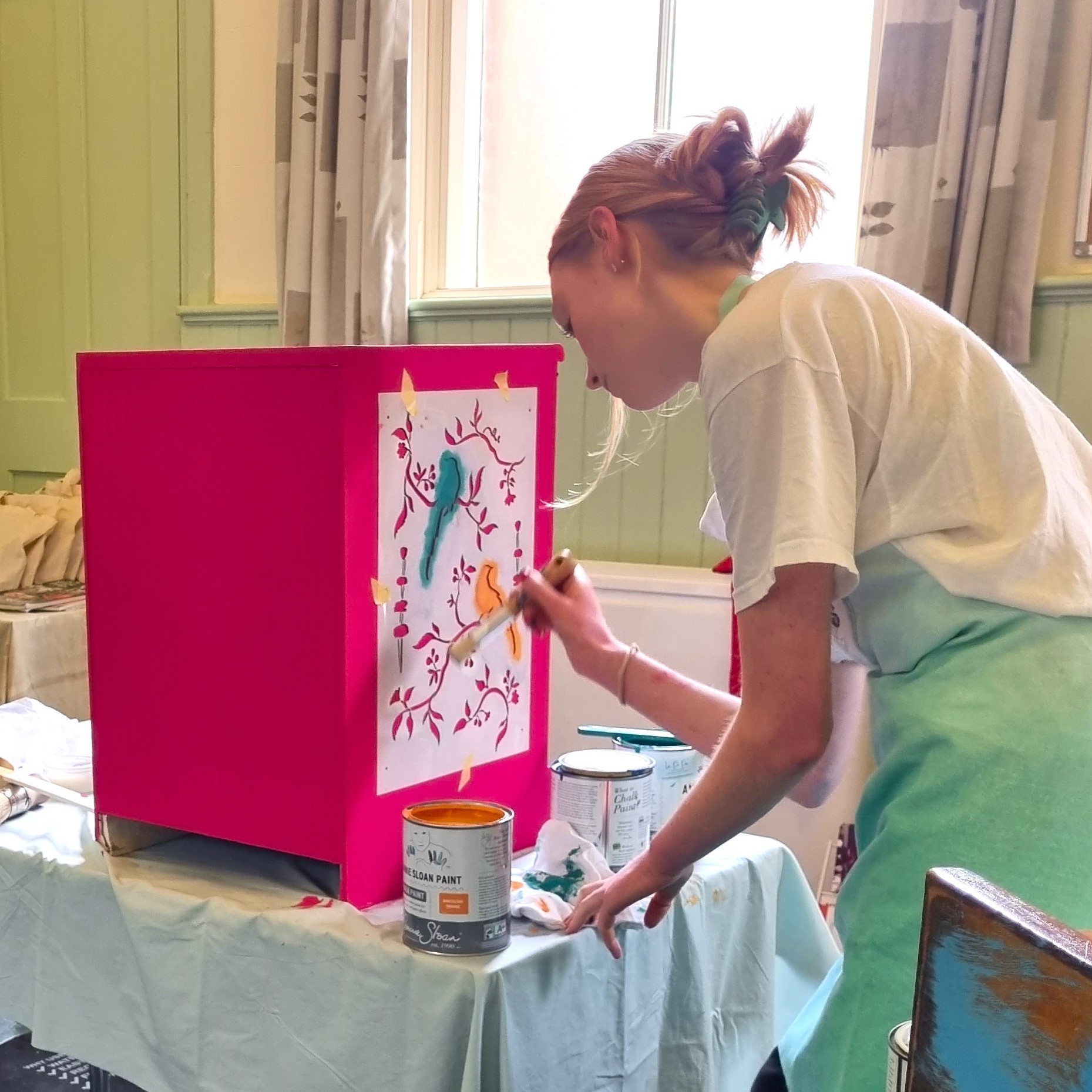 Ava - age 14

"I loved this course and I will definitely keep upcycling in the future...all you have to do is show up and get creative...complete creative control of what you do...This is a perfect course for all ages from me as a teenager (14) to adults and I would definitely recommend it. I was extremely pleased with the final result and enjoyed a fun day painting."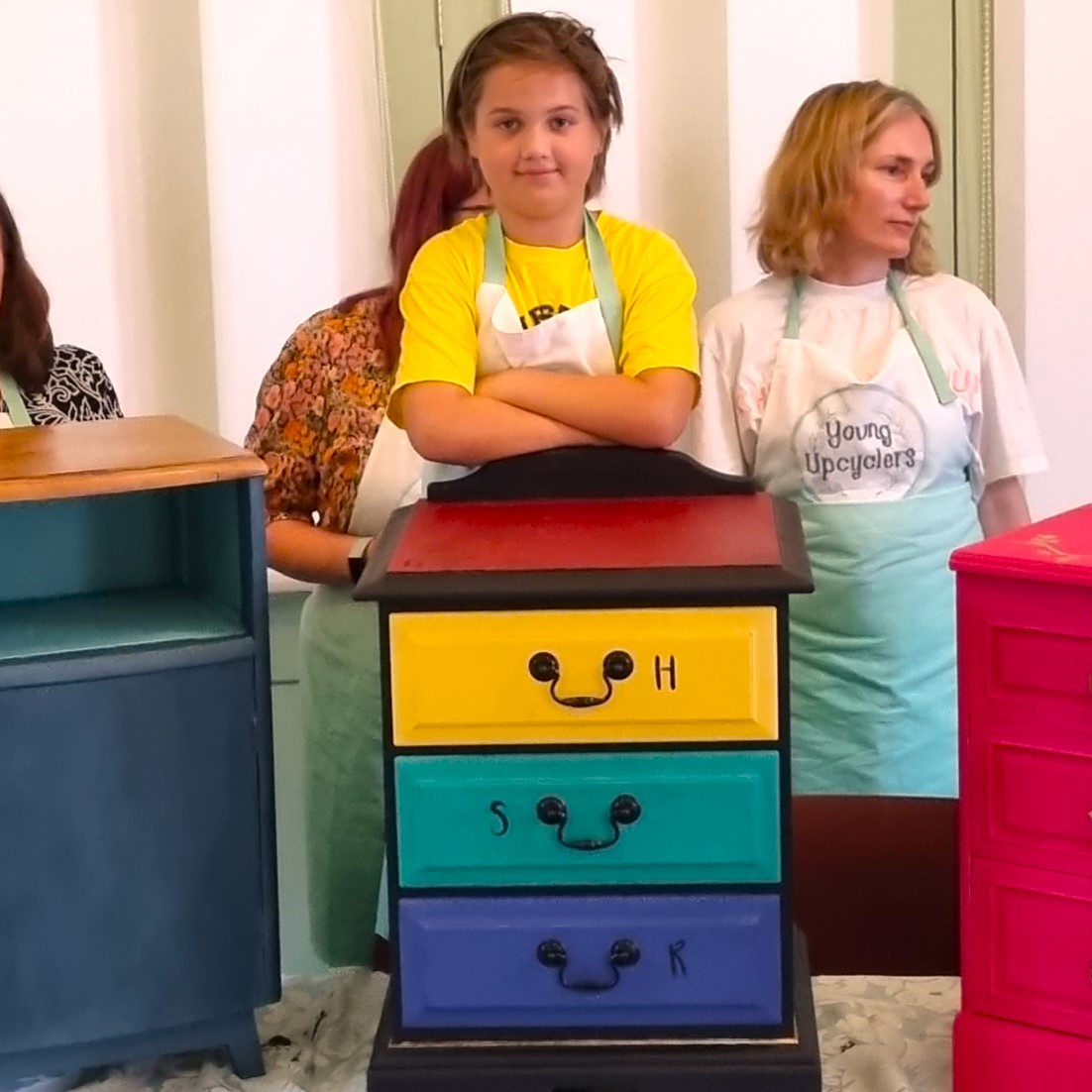 Oscar's Hogwarts Bedside
Oscar is a 10 year old Aylesbury Womble who, along with other Wombles, litter picks the streets to make it a greener, cleaner, better place to live.
Attending an in-person workshop with his Mum, Oscar went home with a Hogwarts inspired bedside of his own design. It's amazing what can be achieved with a little paint and a heap of imagination.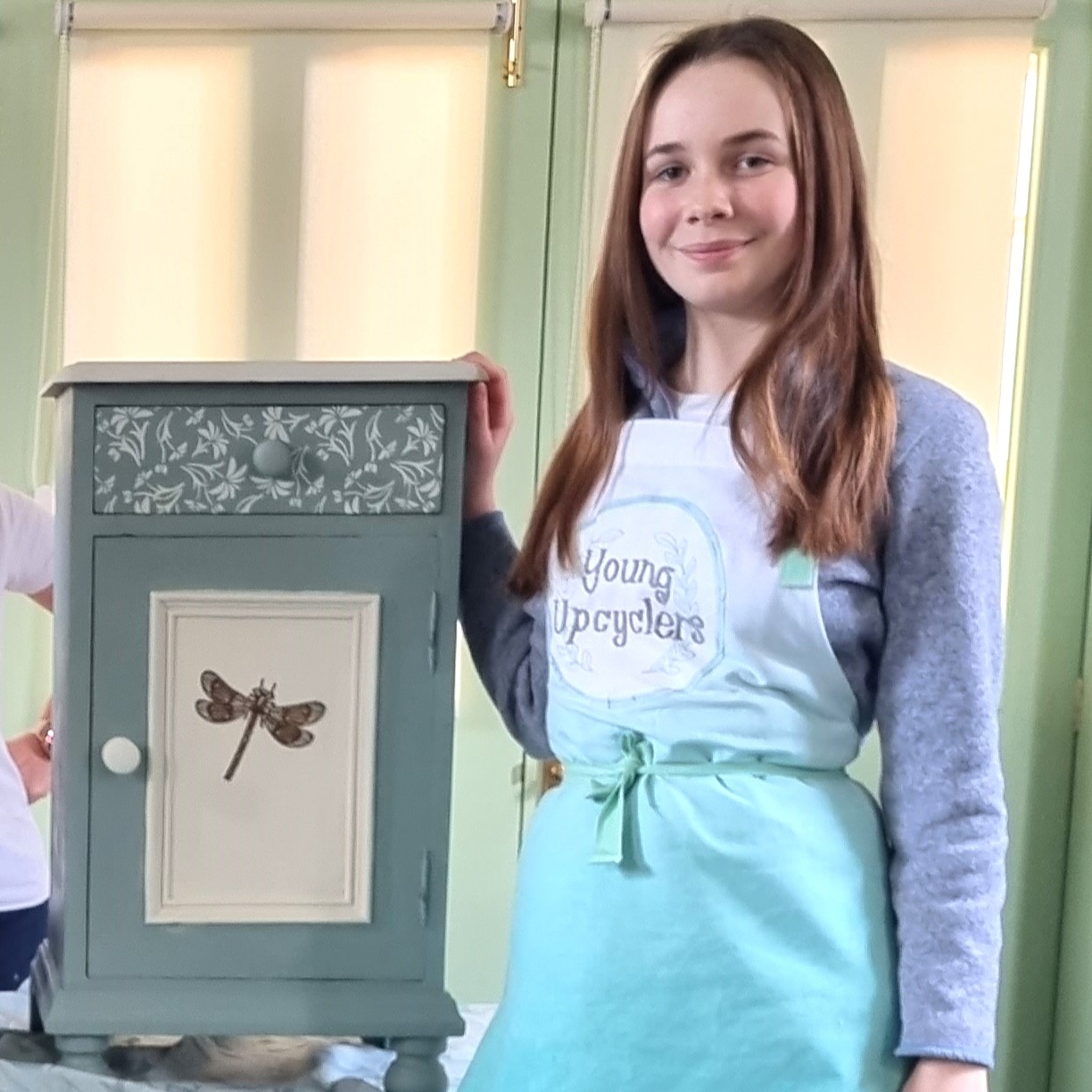 Flinty - age 15

"A special and fantastic day spending quality time with my teenage daughter, learning how to upcycle furniture.
Kirsty was amazing providing a well structured day, learning techniques, every detail thought of plus an addition to our house of a beautiful upcycled piece of furniture fashioned by my daughter.
Can't recommend Kirsty and the course highly enough, both my daughter and I really enjoyed ourselves and our initiation into furniture upcycling - thank you, thank you Kirsty."

This is an opportunity for parents, grandparents, aunties, uncles, godparents or carers to spend quality one-on-one time bonding with their young person. You can both learn how to upcycle furniture together.
These online workshops will make a personal, different and highly creative gift, a worthwhile project for the school holidays. They may even create an entrepreneurial spark within your Young Upcycler. The course has that part covered too.
Who is this furniture upcycling course for?
Our online furniture upcycling workshops are primarily for Young Upcyclers aged 10 to 18 years, although they are equally suitable for Grown-Upcyclers who appreciate just a little more detail.
This course is a great activity to do with the Young Upcycler in your life, be they your son or daughter, or a grandchild, niece, nephew etc.
How much experience do I need to do this course?
Absolutely none! All the skills and techniques will be taught in easy step-by-step videos, supported by some downloadable guides and checklists. Absolute beginners can do this course.
Do I need to be creative to do this course?
Not at all. Of course it helps, but the course offers inspiration at a level your Young Upcycler is comfortable with. This may be a single colour or a range of colours, block colour or stencilled designs. We even discuss knobs and hardware during the course.
What do you need to take part?
You will need a piece of furniture such as a bedside table or small unit. If you don't already have one, the course will guide you through where best to get one from and at a reasonable price.
There will be a full shopping list as well as links to my favourite stockists, included within the course.
Alternatively, boxes containing paints, waxes brushes and accessories are now available from the Upcycle Arcade store. These complete boxes of products contains the materials needed to complete the Furniture Upcyclers online course and are delivered direct to your UK door.
How long will the course be available online?
Once you have enrolled, you can work through the course at your own (or your Young Upcycler's) speed. There is no time limit, and the tutorials will remain accessible indefinitely.
How much is this course?
The regular price is £30 for the tutorials.
The boxes of top quality products, specially selected for your Young Upcycler to enable them to complete the course is available from the Upcycle Arcade store and is £90 for the Premium Box and £70 for the Standard Box.
Just think: your youngster could have the skills and confidence to start transforming their bedroom plus they get to keep all the tools ready for the next projects.
How can I pay for the course?
All major credit and debit cards are accepted.
There is also a payment plan available so you can pay in easier to manage installments.
Why learn from me?
It's been over five years since I first picked up a paintbrush and since then I have perfected many techniques using many different products. By selling upcycled furniture as well as working on people's own furniture, I have prevented hundreds of pieces of furniture from heading to landfill forever.
I have hosted many furniture upcycling workshops in person to upcyclers ranging from age 10 to well into retirement - upcycling really is for everyone.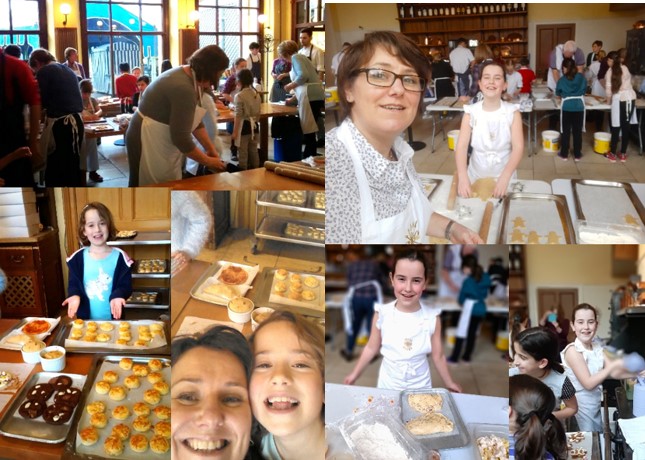 Building Confidence for Young People
Inspiration for the workshops came from attending two baking days at Waddesdon Manor with each of my daughters. The Manor chefs took the workshops and we left with boxes full of baked treats. It was one child with one adult and was a fabulous bonding experience for both me and my daughters. These workshops gave my girls confidence to try, have a go at and not be fearful of a cheese scone or a rosemary bread roll.
I want the Young Upcyclers and their adults who attend my workshops and courses to experience the same sense of achievement, to have the same special one-on-one quality time with each other, and to leave with something rather wonderful and tangible, namely their very own piece of upcycled furniture.
For more information concerning my inspiration for these workshops, read my blog about how to get the Gen Z generation upcycling.
My own Young Upcyclers
I have three teenagers currently living at home, each with their unique style and levels of creativeness. I have helped each one find their own inner-creative and while not always fully agreeing with their choice, I've always respected that it is their choice. And besides, everything can always be repainted.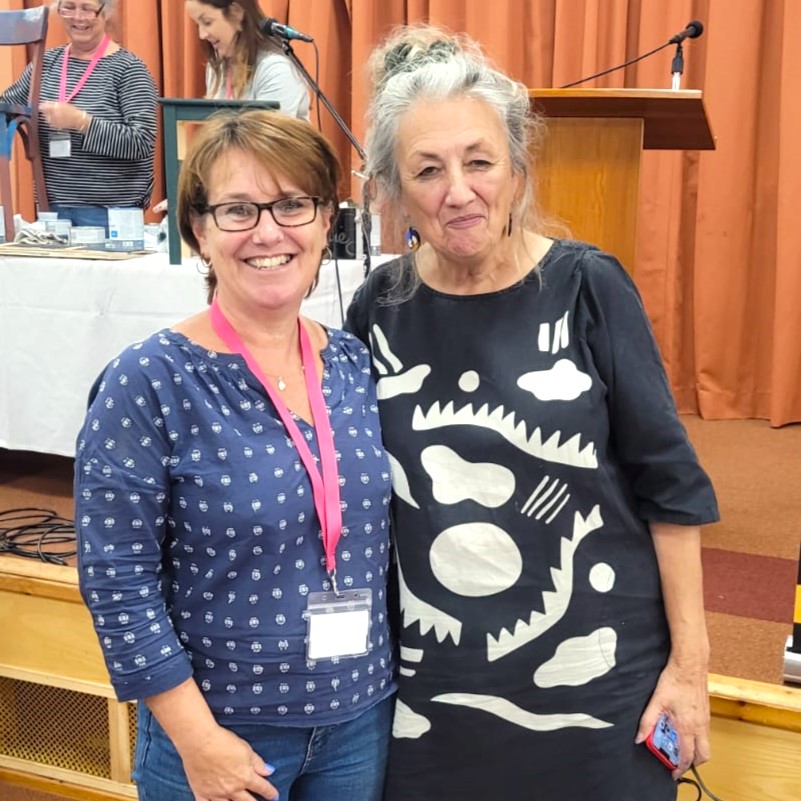 Support from the pioneering chalk paint creator, Annie Sloan

Another supporter of the Young Upcycler initiative is Oxford based Annie Sloan whose chalk paints have revolutionised furniture painting around the globe. "We're in awe of Kirsty and her noble mission to bring upcycling to the environmentally conscious youth of today. Her workshops will inspire confidence, as well as teaching participants important, useful and FUN life skills so that they can enjoy a life of self-sufficiency, sustainability and independence. I look forward to seeing the projects these young eco warriors create!"

Check your inbox to confirm your subscription